ESB International is delighted to be attending the Water, Energy, Technology and Environment Exhibition (WETEX) and Dubai Solar Show 2022 from the 27th to the 29th of September.
WETEX
ESB International attends WETEX annually, and over the years, it has grown into one of the largest specialised energy exhibitions in the MENA (the Middle East and North Africa) region. It provides a unique platform for leading experts in the energy sector to share their insights into the latest global technology and innovations in renewable energy. It is also a critical opportunity for the team to meet with senior decision-makers and stakeholders in the region who require sustainable energy solutions.
The show is held annually under the directive of HH Sheikh Mohammed bin Rashid Al Maktoum, Vice President and Prime Minister of the UAE, Ruler of Dubai, under the patronage of HH Sheikh Ahmed bin Saeed Al Maktoum, Chairman of the Dubai Supreme Council of Energy, and organised by Dubai Electricity and Water Authority (DEWA).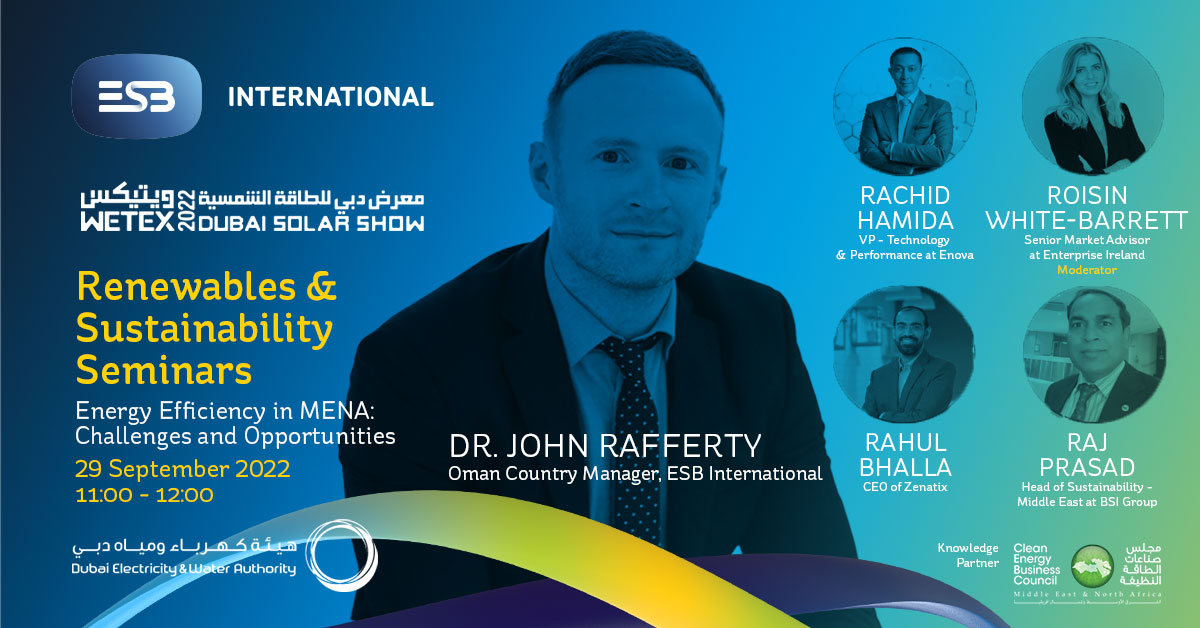 Panel Discussion
Dr John Rafferty, Oman Country Manager, will represent ESB International in a panel discussion, "Energy Efficiency in MENA: Challenges and Opportunities", at the Renewable & Sustainability Seminars in Hall 3 on the 29th of September from 11:00-12:00.
The panel discussion will be moderated by Roisin White-Barrett, Senior Market Advisor for Enterprise Ireland, and facilitated by CEBC (Clean Energy Business Council). Dr John Rafferty will discuss ESB International's leading global expertise and commitment to our clients' energy transition journeys, in line with ESB Group's 'Driven to Make a Difference: Net Zero by 2040' Strategy.
John will be joined in the panel discussion by Rachid Hamida (VP - Technology & Performance at Enova), Rahul Bhalla (CEO of Zenatix) and Raj Prasad (Head of Sustainability - Middle East at BSI Group).
ESB International is a proud partner member of the CEBC, the MENA region's leading forum focused on developing clean energy policies and strategic alliances between local and international organisations in the renewable energy sector.
Set up a meeting with us:
If you would like to meet with our team, either during or outside the exhibition, don't hesitate to reach out through marketing@esbi.ie
Register to visit WETEX.


About Us
ESB International is a global energy engineering consultancy owned by the Irish state electricity company ESB. As a utility-based consultant, we have developed, maintained, and operated resilient energy infrastructure internationally for five decades and in Ireland for 100 years – it's in our DNA.
We advise on the shaping of electricity markets and the futures of utilities achieved through close collaboration with our clients to navigate technological and environmental challenges to deliver resilient infrastructure. To date, we have completed projects in over 120 countries worldwide and specialise in:
Utility Management & Transformation
Strategic Consultancy Market Reform & Energy Transition
Emerging Technology Insights & Advisory
Transmission & Distribution Engineering, Supervisory & Advisory
Generation O&M, Asset Management, Owners Engineer & Advisory Services